Article - 1964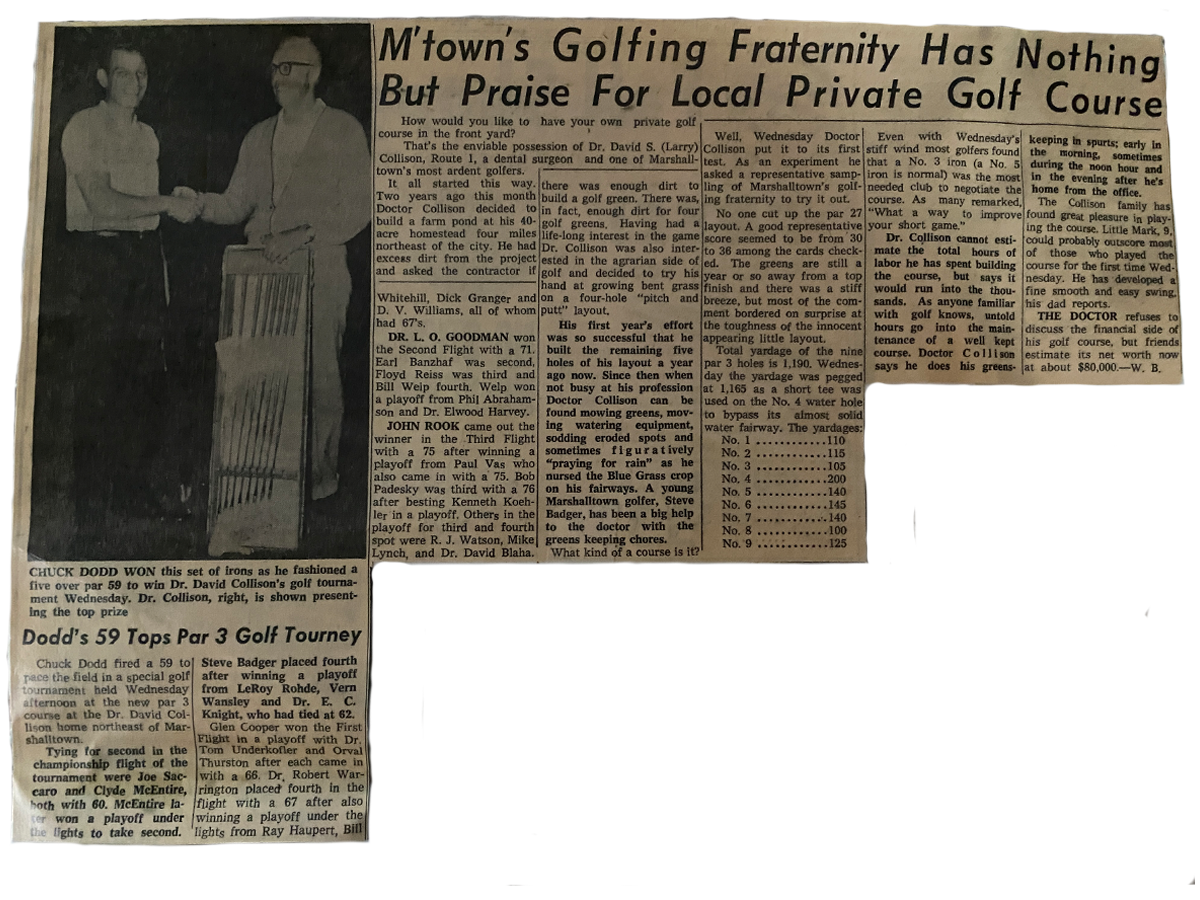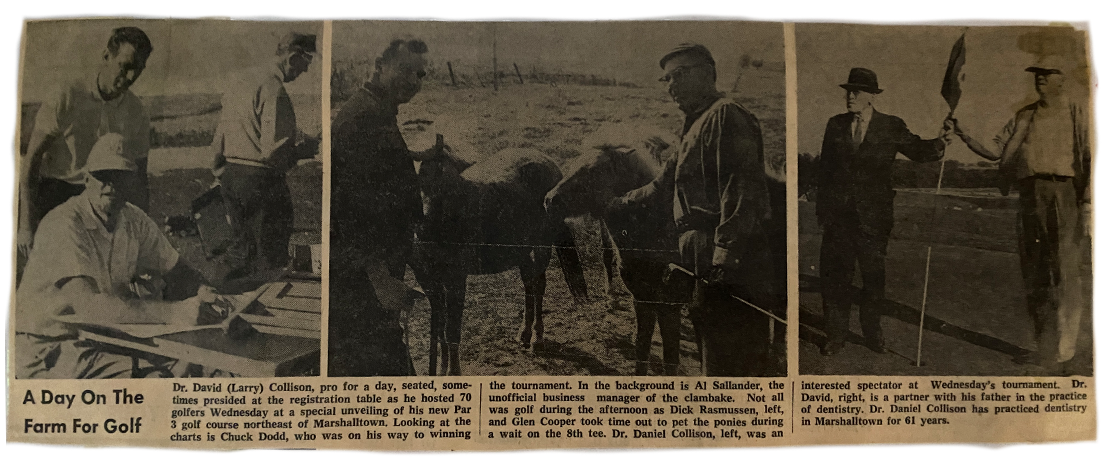 M'Town's Golfing Fraternity Has Nothing But Praise For Local Private Golf Course
June, 1964 (article above)
How would you like to have your own private golf course in the front yard? That's the enviable possession of Dr. David S. (Larry) Collison, Route 1, a dental surgeon and one of Marshalltown's most ardent golfers.
It all started this way. Two years ago this month Doctor Collison decided to build a farm pond at his 40-acre homestead four miles northeast of the city. He had excess dirt from the project and asked the contractor if there was enough dirt to build a golf green. There was, in fact, enough dirt for four golf greens. having a life-long interest in the game Dr. Collison was also interested in the agrarian side of golf and decided to try his hand at growing bent grass on a four-hole "pitch and putt" layout.
His first year's effort was so successful that he built the remaining five holes of his layout a year ago now. Since then when not busy at his profession Doctor Collison can be found mowing greens, moving watering equipment, sodding eroded spots and sometimes figureatively "praying for rain" as he nursed the Blue Grass crop on his fairways. A young Marshalltown golfer, Steve Badger, has been a big help to the doctor with the greens keeping chores.
What kind of a course is it? Well, Wednesday Doctor Collison put it to its first test. As an experiment he had a representative sampling of Marshalltown's golfing fraternity to try it out.
No one cut up the par 27 layout. A good representative score seemed to be from 30 to 36 among the cards checked. The greens are still a year or so away from a top finish and there was a stiff breeze, but most of the comment bordered on surprise at the toughness of the innocent appearing little layout.
Total yardages of the nine par 3 layout was pegged at 1,165 yards as a short tee was used on the No. 4 water hole to bypass its almost solid water fairway.
Even with Wednesday's stiff wind most golfers found that a No. 3 iron (a No. 5 iron is normal) was the most needed club to negotiate the course. As many remarked, "What a way to improve your short game."
Dr. Collison cannot estimate the total hours of labor he has spent building the course, but says it would run into the thousands. As anyone familiar with golf knows, untold hours go into the maintenance of a well kept course. Doctor Collison says he does his greenskeeping in spurts; early in the morning, sometimes during the noon hour and in the evening after he's home from the office.
The Collison family has found great pleasure in playing the course., 9, could probably outscore most of those who played the course for the first time Wednesday. He has developed a fine smooth and easy swing, his dad reports.
The Doctor refuses to discuss the financial side of his golf course, but friends esimate its net worth now at about $80,000.
Dodd's 59 Tops Par 3 Golf Tourney
Chuck Dodd fired a 59 to pace the field in a special golf tournament held Wednesday afternoon at the new par 3 course at the Dr. David Collison home northeast of Marshalltown.
Tying for second in the championship flight of the tournament were Joe Sacaro and Clyde McEntire, both with 60. McEntire later won in a playoff under the lights to take second. Steve Badger placed fourth after winning a playoff from LeRoy Rohde, Vern Wansley, and Dr. E. E. Knight, who tied at 62.
Glen Cooper won the First Flight in a playoff with Dr. Tom Underkofler and Orval Thurston after each came in with a 66. Dr. Robert Warrington placed fourth in the flight with a 67 after also winning a playoff under the lights from Ray Haupert, Bill Whitehill, Dick Granger and D. V. Williams, all of whom had 67's.
Dr. L. O. Goodman won the Second Flight with a 71. Earl Banzhaf was second, Floyd Reiss was third and Bill Welp fourth. Welp won a playoff from Phil Abrahamson and Dr. Elwood Harvey.
John Rook came out the winner in the Third Flight with a 75 after winning a playoff from Paul Vas who also came in with a 75. Bob Padesky was third with a 76 after besting Kenneth Koehler in a playoff. Others in the playoff were R.J. Watson, Mike Lynch, and Dr. David Blaha.
The complete 18 holes (1970s).

Present day - hole 18.
Overlooking the pond that started it all.